Lypertek is a small Chinese manufacturer of personal audio products. Last month, we reviewed the Lypertek Levi, the company's latest TWS earbuds at an affordable price. The Levi offered great performance for the price and quickly became one of our favorites in their price category.
Today, however, I am checking out the product that put the company on the map. The Lypertek Tevi are the popular TWS earbuds that received a ton of critical acclaim since their release. The Tevi feature graphene drivers, along with features such as aptX TWS+ and IPX7 rating for water-resistance. They have received a lot of praise for their audio quality and I was really looking forward to trying them.
So after a month of use, here are my thoughts on these popular earbuds.
Design
The Lypertek Tevi have a fairly standard earbud design. The left and right earbud are nearly identical, with only a very slight angle to the ear tip to separate them from each other. However, this would be barely felt in your ear if you wear them wrong and you can also just put them inside any slot in the charging case. There is also no way to tell them apart in the dark.
The earbuds have a single physical button on the outside on each side. This one button handles all the playback and volume control duties, which can be customized through the companion app.
The earbuds come with four sets of ear tips, three of which are silicone in different sizes. The fourth is made out of foam, which isn't super common in this $90 price range.
The case design is also fairly standard but with a fabric covering the plastic shell. It comes with a little artificial leather strap attached but can be removed. The front has LED indicators to show the status for the battery inside the case. On the back is a USB-C port for charging.
The Lypertek Tevi case does not support wireless charging like its newer and cheaper sibling, the Levi.
The Tevi case is not well built, even though it looks and feels nice to the touch thanks to the fabric cover. The lid feels a bit loose around its hinge and slides around when closed. The case is also unbelievably finicky to open; there is no lip or proper gap on the front to dig your thumb in and it keeps sliding off the smooth fabric cover. It's also one of those annoying lids that doesn't open wide and gets in the way while trying to pull the earbuds out.
Getting back to the earbuds, the Tevi have IPX7 water-resistance, enough for a bit of rain or sweat. The earbuds aren't too big, so they don't visibly stick out a lot from your ears but they are big enough that you can't wear them in bed and lie on your side.
Comfort
I found the Lypertek Tevi to be quite comfortable. I tried them with both, the silicone as well as the foam ear tips, and found that they were equally comfortable.
I would rank the silicone comfort to be a bit on the higher size; if you find one that fits you perfectly, then it will always feel great and you can barely even tell that you are wearing the earphones anymore. With foam, the advantage is that they expand to fit your ears. While this achieves a good seal, once the foam has fully expanded it can put some pressure on your ear canal. It's not uncomfortable but it doesn't let me forget that I'm wearing them.
Overall, I think the Lypertek Tevi should be comfortable for most people.
Features and software
The Lypertek Tevi have a single 6mm graphene driver. Graphene is known for being strong relative to its weight, which means you can have a sturdy driver that's relatively lightweight, an advantage when it comes to moving objects.
The Tevi support Bluetooth 5.0 but no multi-device pairing. Audio transmission uses SBC, AAC, or aptX.
The Tevi supports Qualcomm TWS+, which allows both earbuds to connect directly to the phone instead of a master-slave configuration where one earbud connects to the source and the other to the first earbud. Having both connect directly to the source reduces latency and uneven battery discharge. It also prevents the issue where rapidly increasing or decreasing the volume causes it to happen in one ear first and the second ear after a short delay.
Lypertek also offers a companion app, available on iOS and Android. The app does basic things, such as being able to EQ the sound or upgrade the firmware. You can also change the control scheme for the buttons on the earbuds.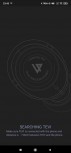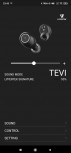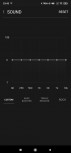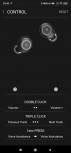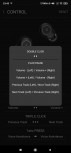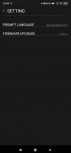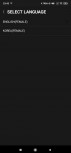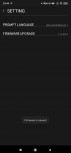 Lypertek Tevi app
One thing I wish the app did was let you disable or turn down the announcements when the earbuds pair with your device. Every time the earbuds pair, you get a loud announcement in each ear saying "Connected". It is genuinely one of the loudest announcement sounds I've heard on any Bluetooth product and makes you think the people at Lypertek are partially deaf for thinking this would be acceptable. Now every time I pull them out of the case, I let them sit for ten seconds for them to pair and make the announcement before putting them on.
Performance
Audio
The Lypertek Tevi have excellent audio quality for their price and product category. You get fantastic tonal balance and personally one of the most pleasing tunings I've heard in this price range. The Tevi can be paired with a wide variety of content and they always come out shining.
Starting with the low-end, the Lypertek Tevi have a well-balanced and enjoyable bass response. Frequencies are boosted in the mid-bass region by a few decibels, which isn't enough to make them overpower the mids or the upset the tonal balance but lets you get that extra kick and slam out of percussion instruments and bass drops.
The bass is a lot more rounded and potent with the silicone ear tips. However, switching to the foam tips made the low-end response more restrained in my experience. Personally, I preferred this as it made the sound even closer to neutral than it already was without making it anemic or analytical. It's worth experimenting with the different tips to see what sort of sound you get.
The mid-range is the highlight of the sound for me. With budget earbuds, more often than not it's a given that the mid-range is going to be either overshadowed by the mid and high-bass or just dialed back artificially for that V-shaped sound. However, the mids on the Lypertek Tevi are out in full force, with excellent presence and clarity throughout the mix. String instruments and smaller percussion instruments have a wonderful timber and sound full-bodied. Vocals have natural tonality that lets you appreciate the voice as it stands proudly in the mix.
Fortunately, the good news doesn't end there, as the Tevi also have a very good high-end response. Getting a good treble performance is a tightrope walk as it's a much harder region to tune precisely and slight deviations can cause the sound to either lose detail or become too bright. The Lypertek Tevi manage this tightrope walk quite well, with the high-end having sufficient resolution and detail, along with a bit of sizzle and air at the top without sounding harsh or sibilant. Higher pitched female vocals, guitar strings, and high hats all have a good clean sound without overpowering the mix or having a metallic tinge.
But what impressed me in particular was the imaging and soundstage. Neither of these are strong suits of in-ear earbuds as they don't quite engage the outer ear to give you the sensation of listening to a good pair of speakers. However, it seems there is some audio processing magic going on with the Lypertek Tevi, as they produce some of the best imaging and soundstage performance I've heard on wireless and on par with good wired earbuds.
The earbuds also have the uncanny ability to disappear in the sound sphere. Now, to be fair, the soundstage isn't as wide as good open back headphones, let alone loudspeakers, but it extends a good bit outside the confines of your head and the imaging is able to place the objects exceedingly well around this little virtual sphere.
If this really is audio processing magic, it's one of the best I've heard and at no point comes across as artificial sounding or over-processed. That it sounds like good wired audio is the best compliment I can give it.
Overall, I was really impressed with the audio quality on the Lypertek Tevi. If these were $200-300 full-sized wired headphones, the audio quality would have been good, if somewhat unremarkable. But the fact these are not just in-ear earbuds but also truly wireless earbuds at $90 is crazy. This is pure technical brilliance on display here that too at a scarcely believable price.
Microphone
The Lypertek Tevi have mediocre recording quality. The audio resembles that from an old landline telephone. It's audible and your callers won't have issue discerning what you're saying but the sound itself has a tacky, compressed quality to it. Background noise isolation is also average at best. Adequate for short calls but not if voice calls are super important to you.
Latency
The Lypertek Tevi have good latency performance when used with aptX and TWS+. When testing with AAC, the latency was still acceptable. The delay was more noticeable to me but wasn't experience breaking and most people won't notice it. Overall, the Lypertek Tevi are perfectly viable for watching video content and some casual gaming but serious gamers may still want to invest in a wired headset, especially if they also plan on using voice chat.
Noise-cancellation
The Lypertek Tevi don't have active noise-cancellation. However, they exhibited excellent passive noise isolation, especially when using the foam ear tips. The earbuds alone, with nothing playing, can drown out most ambient noise in a typical home or office environment.
With audio playing, you really need something loud to happen right next to you for you to be able to notice it. This level of isolation, however, may not be safe if you plan on wearing them outdoors and there's also no passthrough mode that some earbuds have.
Connectivity
The Lypertek Tevi had reliable connectivity throughout the test period, which was just over a month at the time of writing. While I'd like to say this is the norm, it really isn't and even modern Bluetooth products from large manufacturers often exhibit some hiccups every now and then. So for the Lypertek Tevi to remain rock solid throughout was something of an achievement.
Battery
The Lypertek Tevi have a promised battery life of 10 hours of continuous usage when using SBC. My testing was conducted using aptX and so I managed 8.5 hours of continuous playback. For TWS earbuds, this is a good, if not exceptional result.
What's somewhat disappointing is the fast charge time. After 10 minutes of charging from flat, the earbuds only played for an hour before shutting down, which is easily the lowest result I've had so far. No wonder Lypertek doesn't make any fast charge claims.
As mentioned before, the Lypertek Tevi case doesn't support wireless charging so wired charging is your only option.
Conclusion
The Lypertek Tevi are priced at $90 and are now my favorite budget wireless earbuds. Whatever engineering/incantations Lypertek had to do to make them sound the way they do was worth it, because they sound incredible for the price.
They are also comfortable, have good design, build quality, battery life, latency, and passive noise isolation. The only thing that sticks out is the microphone performance, and even that should be adequate for most people.
If you are still in the wired audio camp, that's understandable. For around the same price, you could get something like the MoonDrop Starfield, or pay a bit less and get the Tin T3 or BLON BL-03 and you'd be very happy with those. But products like Lypertek Tevi show that you can now have technically great sound that is still affordable but without any wires. It's quite impressive and I can't wait to see how much better wireless earbuds get in the future.
I've personally really enjoyed using these for the past several weeks, even when I've had other, more expensive things lying around. I plan on getting a pair of my own as soon as I hand back the review unit and using them as my daily driver for the foreseeable future.
Source: Gsmarena